EMG-Zine, Free Downloads!
In gratitude for your support (we are funded until December, 2012!), I have decided to offer the first EMG-Zine Anthology for free PDF download! This volume is also available as a limited edition print volume, and the contents are available in our archives.

This volume is a little different than the subsequent two volumes; the layout is much different, and it contains a lush selection of full color artwork and fiction. If (a big IF) it is ever brought to reprint, it would be reformatted to be a better companion to the rest of the series, and the color- (and cost!) intensive center section would be removed. There are less than 100 copies remaining of this original edition.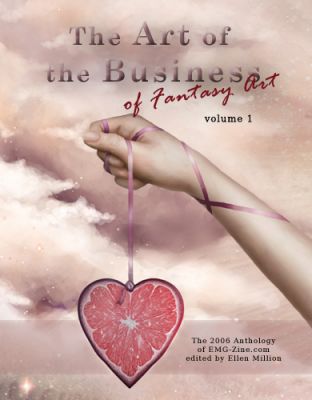 Volume 1, collecting the juiciest articles from 2006, also included a selection of fiction and artwork from that year. Hysterical, serious and frightening by turn, this book is straight-forward dirt from the artists and writers in the trenches, and bound to become a dog-eared favorite. Cover artwork is by Amy Edwards, and articles are by R. Bail, Ursula Vernon, Janet Chui, Ellen Million, C.E. Murphy, Annie Rodrigue, Melissa Acker, Liiga Smilshkalne, Dawn Obrecht, Sonia Fedotowsky, Megan Myers, Audry Wildhagen, Sylvia Leung, Roy Griffin, R.J. Decker, and Joleen Flasher. You can't go too wrong with something that starts with a chicken and an egg and ends with 'Let there be light!' 118 pages, 40 in color. Click the cover art, above, to download the pdf. ~25 Mb.
A huge thank you to all the sponsors who have ensured that EMG-Zine continues another year, as well as all of the authors and artists who fill the pages of our monthly 'zine with such awesome material, and the staff that keeps us going!
Sponsors and Subscribers: L Cowie, Edward Camarota, Jeffery R., Erika 'Thrivis' Harm, Meeks, Cereus, Marianne, DormantDrake, Aldersprig, Ace Lightning, tonithegreat, and many anonymous donors and supporters! (Please let me know if you'd like to be listed here, or if you'd like your webpage link updated!)
Be well,
Ellen Million
All donations received after December 31 2012 will go to hosting and domain registration costs; though we are no longer updating, there are a few recurring expenses.
If you appreciate the vast wealth of information still available, please consider donating!