EMG-Zine Entrance
Printed Anthologies
Free Download of Volume 1!
March 2009
Columns
EMG News for March

EMG News
by Ellen Million
EMG-Zine
We've got a new feature here at EMG-Zine that will allow us to publish work that contains nudity - but these articles will only be available for registered users who have chosen to view them! They are still free to read and view, you just have to jump through a few hoops. Enjoy some selkie bootie from Cris this month! You will need to edit your account to request access to these features. (And you may need to log out and in again to make them work!)
Additionally, the 2nd volume of the EMG-Zine anthology is out! It is
$20
, or available with
'zine sponsorships
, or available bundled with
volume 1
for $35! Click the picture for more details!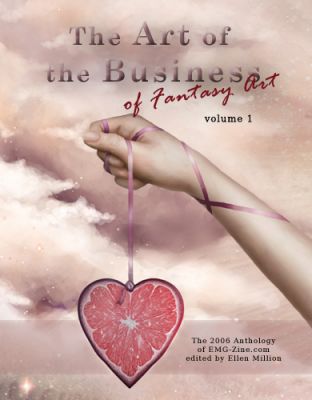 March Specials in the Fantasy Art Shop

Our sales bundle for the month is one calendar (your choice!), one coloring book (your choice!) and 5 random cards, for only $20.

Be sure to check out the beautiful new work that is going up regularly! Here are just a few...




Work here includes pieces by Carrie Hawks, Liiga Smilshkalne, Erika Harm, Annie Rodrigue, and Sherrie Spencer. Be sure to visit the webpage for work by more than 200 artists!
Ellen Million has always had a passion for projects. Visit her site for prints and embarrassing archives.


All graphics on these pages are under copyright. Webpage design copyrighted by Ellen Million Graphics. All content copyrighted by the creating artist. If you find anything which is not working properly, please
let me know
!
Ellen Million Graphics Main Page - Privacy Policy

EMG powered by: a few minions and lots of enchanted search frogs
Random artwork
from this issue: