Fantasy Art Shop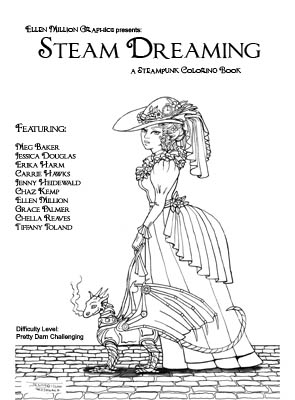 Steam Dreaming is in stock, but selling out quickly! Click the link for more information.
Sketch Fest
Our next
Sketch Fest
is scheduled for September 17-18! Mark your calendars!
EMG-Zine
I have a slight coding problem and accidentally re-designed EMG-Zine last night. I'm sure this problem can be treated with medication, but in the meantime, enjoy the new look and browsing. Let us know what you think by sending us a letter to the editor!
Keep your eyes peeled for the release of pre-orders for Volume 3 of the EMG-Zine anthology:
I should have the proof in hand this week, and stock will be about 6 weeks off from that. This is a gorgeous book, and may even be nicer and more useful than the previous two!
Portrait Adoption
A selection of new portraits:
Adoptions this month:
Torn World
Torn World
has several new features to offer, including
tours,
which are a great way to browse stories and artwork in our archives. This week begins a new plot arc, and new stories and artwork are being posted regularly! Be sure to check out the glasswork that Torn World has inspired!
Fantastic Portfolios
We are in need of active critics! If you've got opinions, a solid background in art, and would like to give structured critiques to help your fellow artists improve, please
contact me!