EMG-Zine Entrance
Printed Anthologies
Free Download of Volume 1!
December 2012
Columns
EMG-Zine: Anthologies
The yearly best-of anthology in print! The best and most helpful of the articles and tutorials are printed for easy reading in a high-quality publication that will be a useful and beautiful addition to any bookshelf. Each volume is 8.5 x 11 inches, softcover, with thick, quality pages and clear, beautiful illustrations.
---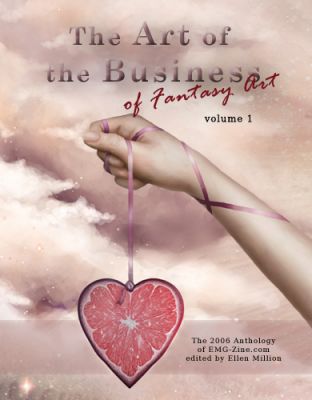 Volume 1, collecting the juiciest articles from 2006, also included a selection of fiction and artwork from that year. Hysterical, serious and frightening by turn, this book is straight-forward dirt from the artists and writers in the trenches, and bound to become a dog-eared favorite. Cover artwork is by Amy Edwards, and articles are by R. Bail, Ursula Vernon, Janet Chui, Ellen Million, C.E. Murphy, Annie Rodrigue, Melissa Acker, Liiga Smilshkalne, Dawn Obrecht, Sonia Fedotowsky, Megan Myers, Audry Wildhagen, Sylvia Leung, Roy Griffin, R.J. Decker, and Joleen Flasher. You can't go too wrong with something that starts with a chicken and an egg and ends with 'Let there be light!' 118 pages, 40 in color. Order at Ellen Million Graphics
---
The Art of the Business of Fantasy Art, Vol 2 is in stock now. With a gorgeous cover by Jessica Douglas, this volume includes full color walkthroughs, tutorials, discussion about self-publishing, pricing art, work for hire contracts, dealing with art directors, maximizing your workspace and minimizing your footprint on the earth. The writers include C.E. Murphy, Ursula Vernon, Janet Chui, Theresa Mather, Layla Lawlor, Nicole Cadet, Megan Myers, Melissa Acker, and Ellen Million. The very best of the articles from EMG-Zine 2007, stunningly laid out by Melissa Findley in a 92 page, 8.5 x 11 inch softcover. Order at Ellen Million Graphics
---
The best of the third year of EMG-Zine is collected here in a priceless resource for science fiction and fantasy artists and writers. Learn about licensing, time management, cyberfunded creativity, starting a home business, xenolinguistics, going green, handling burnout, color theory and much, much more. Tutorials, full-color example projects, and franky, funny advice will earn this volume a place of honor on your shelf. Purchase this bundled with other volumes, or with a subscription! Cover art by Michele-lee Phelan. Authors include: Melissa Acker, Elizabeth Barrette, Janet Chui, Amy Edwards, Selina Fenech, Melissa Findley, Ellen Million and Ursula Vernon, with poetry by Marina Bonomi, Michelle M. Mead and Erin Metcalf. Order at Ellen Million Graphics
Please note that all future anthologies have been indefinitely canceled due to low sales. If you are interested in seeing future volumes, please, buy copies, spread the word and link to this page!
Wholesale is available, please inquire.
Check the Amazon product pages for copies for sale by other parties.
All graphics on these pages are under copyright. Webpage design copyrighted by Ellen Million Graphics. All content copyrighted by the creating artist. If you find anything which is not working properly, please
let me know
!
Ellen Million Graphics Main Page - Privacy Policy

EMG powered by: a few minions and lots of enchanted search frogs