EMG-Zine Entrance
Printed Anthologies
Free Download of Volume 1!
December 2012
Columns
Welcome to EMG-Zine, an e-zine for artists and writers of fantasy and science fiction.
| | |
| --- | --- |
| | In this month's issue, Constanza interviews our own Ellen and Missy Acker walks us through a watercolor with stars. We have walkthroughs by Jenny Heidewald, Erika Harm and Mitzi Sato-Wiuff. Tori Beveridge offers a tutorial on creating Tubes, and Ellen offers her thoughts on endings. We also have Star-themed art and poetry. Enjoy! Read this issue! |
Visit the Archives - now free for all registered readers!
What's in EMG-Zine?
We've got monthly columns from Ursula Vernon, Melissa Acker, Constanza Ehrenhaus, Annie Rodrigue and Ellen Million. We've also got feature articles on marketing and promoting your artwork and writing, tutorials on a range of subjects, information about the theme of the month, a gallery of artwork - all from trusted and talented members of the fantasy and science fiction communities. We're edited by Jennifer Broschinsky and Ellen Million and powered by a whole host of enchanted search frogs.
There is also a yearly best-of anthology in print! The best and most helpful of the articles and tutorials are printed for easy reading in a high-quality publication that will be a useful and beautiful addition to any bookshelf.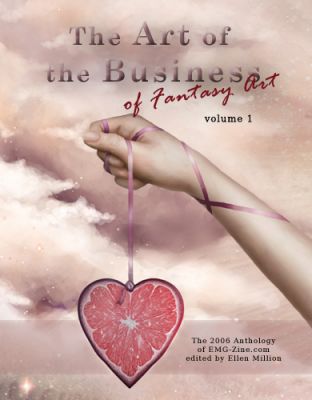 Interested in submitting? Please see the Guidelines.
If you have questions, or suggestions, please feel free to contact me using the form below, or come discuss things in the forum!
All graphics on these pages are under copyright. Webpage design copyrighted by Ellen Million Graphics. All content copyrighted by the creating artist. If you find anything which is not working properly, please
let me know
!
Ellen Million Graphics Main Page - Privacy Policy

EMG powered by: a few minions and lots of enchanted search frogs